Downloading ooyala video's or how I viewed a m3u8 on my windows phone.
Last Updated on 05 February 2015
|
Written by CodeAsm
Neil deGrasse Tyson posted a video on his blog today and I wanted to watch it on my mobile phone.
I could have just watched it because its very small but no, I realy wanted the video offline.
http://uk.businessinsider.com/neil-degrasse-tyson-nerd-hobby-2015-1?r=US
And lucky us, ooyala provides a link to embeded the video, in such a way, that we have a direct link to their playlist. or apparantly, a m3u8 is a kind of stream playlist.
Some google and bing minutes later and I got the following website:
http://forum.videohelp.com/threads/359319-How-do-I-download-the-following-m3u8-url
basicly saying:
ffmpeg can download it with the following command line:
Code: ffmpeg -i inputvideo.m3u8 outputvideo.ts
So yes, after I downloaded ffmpeg (realy handy) I later got a ts file, thats basicly a mp2 file like settop boxes use for streams.
altho I could have tried converting the file, windows mediaplayer and VLC just play it.
and while I copied the file to my Windows Phone 8.1, he said "This device does not support playing this file, would you like to convert it?" I clicked yes and there was a WMV file, with audio and video on my mobile :D
Thanks for reading, the more you know :D
Xbox project status
Last Updated on 09 February 2015
|
Written by CodeAsm
So recently some things arround my school made me have lotts of time.
Time to work on a Robot project, and ill make a post about that soon, but I also made some progress in researching the xbox.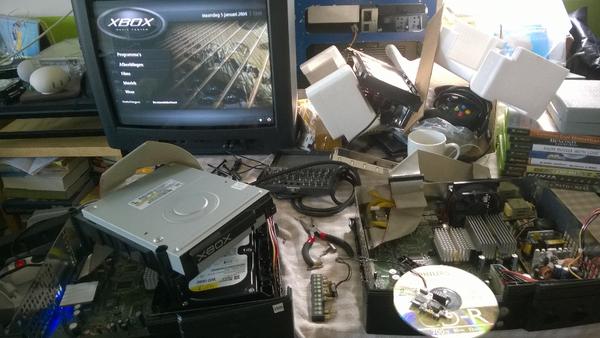 At first a working modchip was modified with a kernel I modded... went wrong, I was at the hackerspace and had no way to reprogram the modchip to a working state there. So back home I used my spiderchip from my first xbox (on the right) to Hotswap chips to reprogram the Xecuter2.2 Pro.
And well, just a day after I got a PM, and there we have a long searched file: Barnabas-2084 .rar (it is in 8 parts.)
its the sourcecode for the Xbox kernel, bios. I might try researching this for Xbox live, an idea many people have ideas about, but no one so far as proven a workingserver. modified xbox or custom servers... its probebly gonna be a mess.
The files are here: http://www.emuxtras.net/forum/viewtopic.php?f=193&t=2212&start=490
[UPDATE] files are gone there, made an archive backup: http://archive.codeasm.com/#barnabas
Im not hosting these, because nope. but ill reup if its needed.
Cannot tell alott about what ive done so far, but I can confirm its the source, and compares to a few kernel dumps i have.
More on this and other projects soon, hope Facebook comments work ;P
Xbox Alpha running
Last Updated on 15 April 2014
|
Written by CodeAsm
Small update, recieved the USB card and its working :D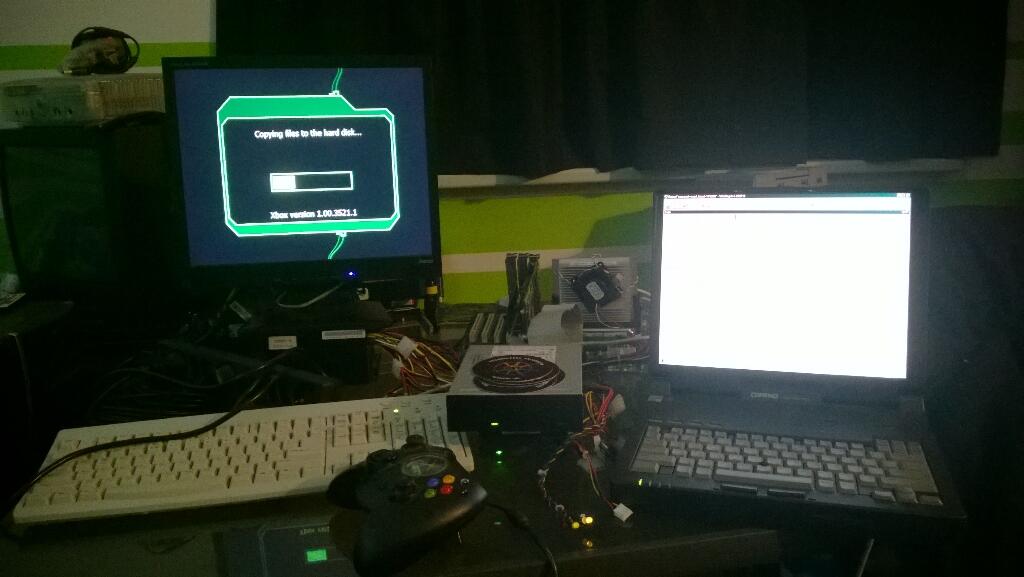 Pressed go, and its recoverying the dashboard on my Windows XP drive. Gone are all the iligal mp3 ;)
And an example file is run from the xdk dashboard
To see the dashboard: http://ptoponline.com/?p=573 Borman released the recovery file I used.
And for those who search for some alpha or xbox related files: http://codeasm.com/xbox/files/
Xbox Alpha build
Last Updated on 15 April 2014
|
Written by CodeAsm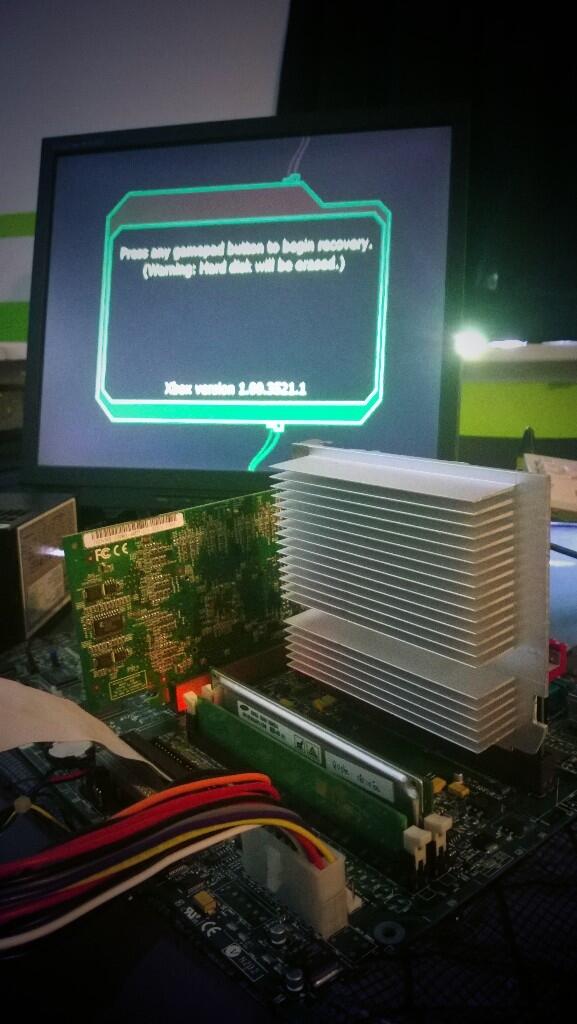 Building an Xbox Alpha pc is done before, and its not that hard after all.
You are only very limited in wich parts you can use. You need specific hardware and the software will only run with the correct setup and settings.
So ill just post wich parts I got with a few images allong (ill add more details later so you can try matching them againtst your parts)
There are cool projects going on to make a XBox run in an Qemu and Cxbx is already doing an awesome job emulating a few more games and applictation these days, even the Sega Chihiro Arcade system :D .
I builded my system because of, well,.. Because I can, and its a fun thing to build a pc with a specific purpose in mind :P
These parts are needed at a minimum to run in the 3251 Recovery disk.
Images: http://codeasm.com/xbox/images/alpha/
Costs are inclusive shipping
Intel VC820 Motherboard (Ebay, Germany),(Euro 24)

128Mb Ram (with terminator)

I actualy got 2, 128mb and 2 terminators so 1 set for 5.75?

(Tweakers.net sale, NL)(Euro

11,50)

CPU INTEL P3 SLOT 1 733MHz CPU SL3XN 133MHz 256KB 1.65V , (Ebay UK)(GBP 6,98 ~ Euro 8.50)

64MB AGP Dell 3J562 nVidia Geforce3 NV20 DVI / VGA Graphics Card (Ebay UK)(GBP12.99 ~ Euro 15,81)

Some IDE and power cables, Powersuppply (free from leftover PC, 25 ?)

Screen, secondhand, free (25 euro and you have a nice flatscreen one secondhand)

Harddrive (SDK says minimal 20GB, IDE) 80Gb free harddrive (5 euro secondhand?)
Total cost: Euro 59,81(Excluding free parts) Total:  114,81 (With estimated prices for stuff I already got) (Calculation done in 5-3-2014)
Still to Arrive, 2 port USb card :
Belkin F5005 2-Port USB PCI Adapter Card with a OPTI 82C861 Chipset (Get a OPTO 82C861 card), £10,98(13.37 Euro)
And I realy like to have a Controller working (Hammerhead) or hack some files or xbox controller to be accepted. (saw one for 30 USD but US only)
Here is my combo wokring: (second run :P) http://www.youtube.com/watch?v=fdeZpKyPhxI#t=190
The AMR, Audio/Modem Riser card WM9707
So I was doing some research into the Soundcard of the Xbox Alpha. Because I want to create a franken Alpha myself I need a soundcard. Well, it can work without one but thats kinda stupid and I want sound. According to some people on Assemblergames.com the Dash should work without one. Games will crash.
Me and a few other wanted to find or create such a sound card ourselves. But the resources to do so are very limited, in a way that you cant realy find documents or parts very easy. but it all changed yesterday, 14/10/2013. I contacted Intel, searched the archive and after a while Espes send me the Intel doc I was searching for http://www.ms-infobytes.info/pages/AudioModemRiser.pdf ,
Bad_Ad84 commented in the chat "
| | |
| --- | --- |
| | why not download the reference design from wolfson for one of the amr cards |
and here we are :D I found first one for the WM9705, but this morning I used the Archive again:
http://web.archive.org/web/20040517010459/http://www.wolfsonmicro.com/uploads/documents/WM9707AMR.pdf
On the whole wide web there is little to no information about the AMR slot used in many 2000 era computers, it was supposed to be kinda closed and such.
But here are the specs and some other intresting images :P original source also noted.
I hope this info and the files can help you If you stumbled on this, I try to make this sound card into something real in the next couple of month and maybe sell some boards if I have leftovers. Otherwise, make it yourself, order the main ic from somewhere like china and build it :D or source your own board. Original retail price, $99.
I spend $8 so far, and 6 hours searching.
I have made a backup of all the said files, so might one disappear, please contact me.
Image from borman, his Soundcard behind the Nvidea video card: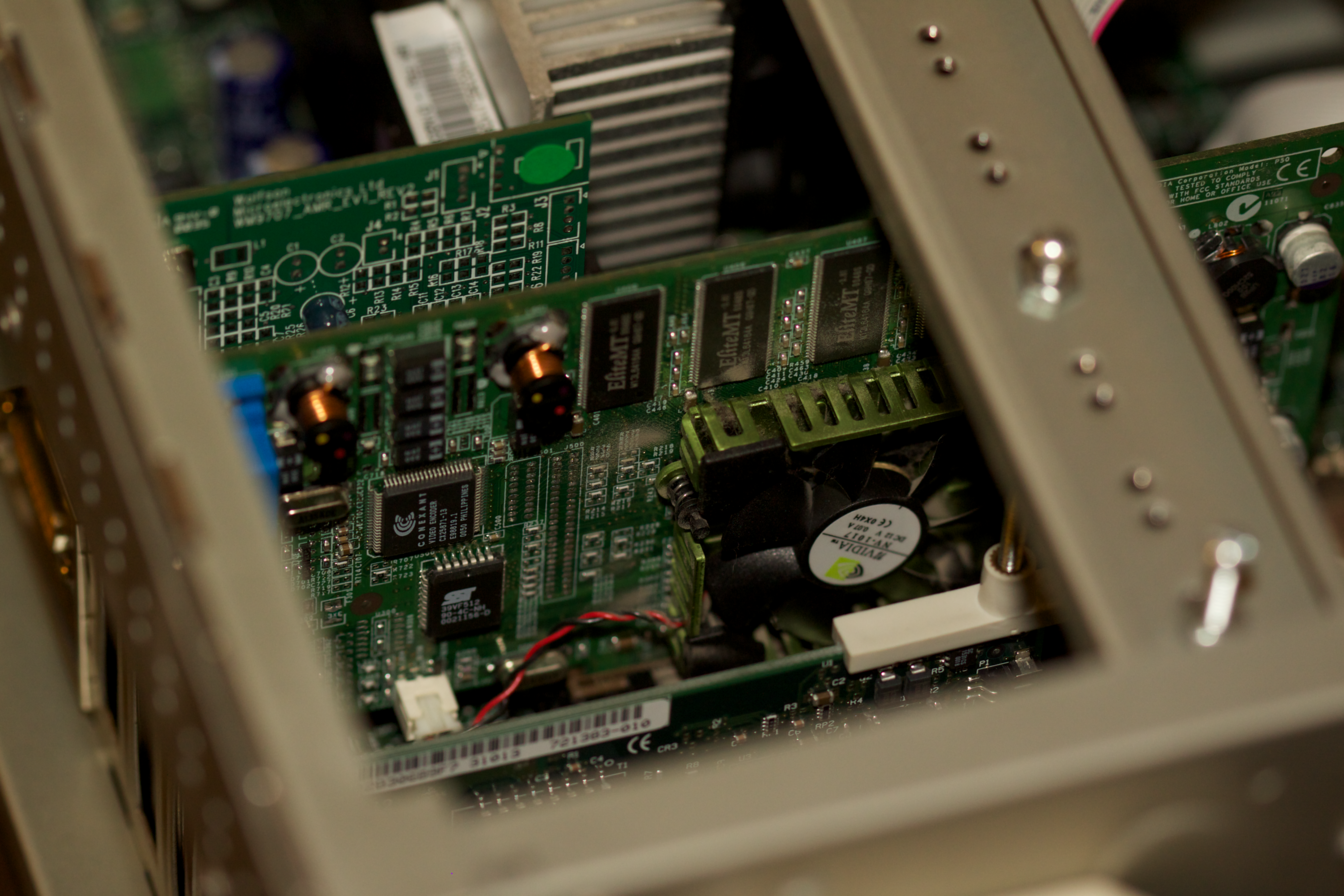 More Articles...
Page 1 of 2