Xbox Alpha build
Last Updated on 15 April 2014
|
Written by CodeAsm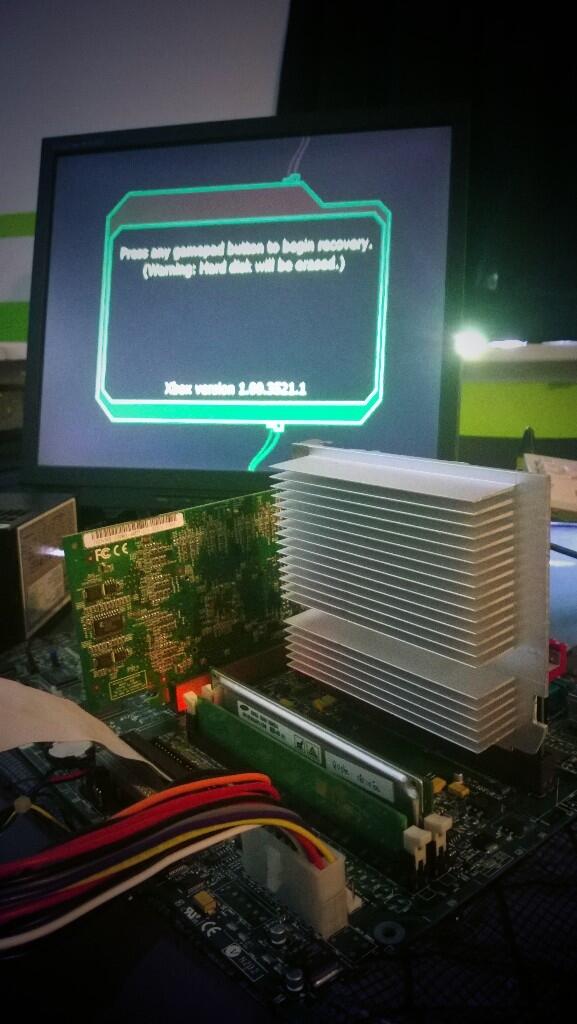 Building an Xbox Alpha pc is done before, and its not that hard after all.
You are only very limited in wich parts you can use. You need specific hardware and the software will only run with the correct setup and settings.
So ill just post wich parts I got with a few images allong (ill add more details later so you can try matching them againtst your parts)
There are cool projects going on to make a XBox run in an Qemu and Cxbx is already doing an awesome job emulating a few more games and applictation these days, even the Sega Chihiro Arcade system :D .
I builded my system because of, well,.. Because I can, and its a fun thing to build a pc with a specific purpose in mind :P
These parts are needed at a minimum to run in the 3251 Recovery disk.
Images: http://codeasm.com/xbox/images/alpha/
Costs are inclusive shipping
Intel VC820 Motherboard (Ebay, Germany),(Euro 24)

128Mb Ram (with terminator)

I actualy got 2, 128mb and 2 terminators so 1 set for 5.75?

(Tweakers.net sale, NL)(Euro

11,50)

CPU INTEL P3 SLOT 1 733MHz CPU SL3XN 133MHz 256KB 1.65V , (Ebay UK)(GBP 6,98 ~ Euro 8.50)

64MB AGP Dell 3J562 nVidia Geforce3 NV20 DVI / VGA Graphics Card (Ebay UK)(GBP12.99 ~ Euro 15,81)

Some IDE and power cables, Powersuppply (free from leftover PC, 25 ?)

Screen, secondhand, free (25 euro and you have a nice flatscreen one secondhand)

Harddrive (SDK says minimal 20GB, IDE) 80Gb free harddrive (5 euro secondhand?)
Total cost: Euro 59,81(Excluding free parts) Total:  114,81 (With estimated prices for stuff I already got) (Calculation done in 5-3-2014)
Still to Arrive, 2 port USb card :
Belkin F5005 2-Port USB PCI Adapter Card with a OPTI 82C861 Chipset (Get a OPTO 82C861 card), £10,98(13.37 Euro)
And I realy like to have a Controller working (Hammerhead) or hack some files or xbox controller to be accepted. (saw one for 30 USD but US only)
Here is my combo wokring: (second run :P) http://www.youtube.com/watch?v=fdeZpKyPhxI#t=190